Efficient. Versatile. Reliable. Portable.
EdgeCool brings the best thinking in split system design to support your IT functions.
Targeted Cooling—Gives You Ultra Efficiency.
Cool the rack, not the room. Hot and cold aisles keep air from mixing to ensure you get optimal cooling performance and energy savings.
Add to Your Existing Rack—Move It Anywhere.
Simple installation turns practically any rack, open or sealed, into a portable, self-contained server room. Works with standard 120V/20A power—no external components or building modification required.
Continuous Operation—For Reliability Year Round.
Designed with DENSO dependability for primary, supplemental, or backup cooling. Rest assured of guaranteed reliability in any season.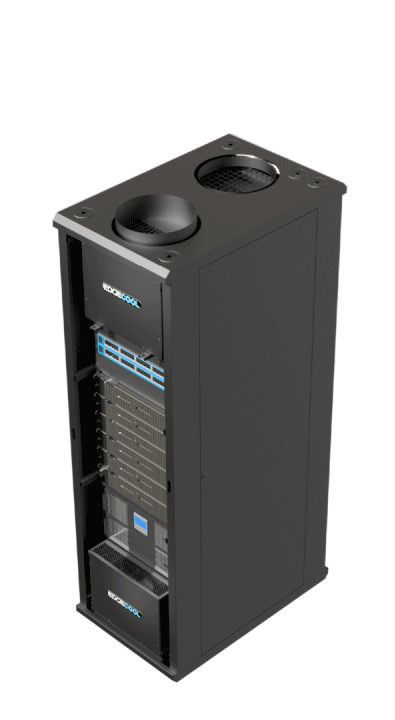 EdgeCool brings "best value" in server-cooling with efficiency that pays you back in dollars saved. Ask our EdgeCool technical expert to quote your system today.
At Home in Your Environment
Count on EdgeCool to maintain optimal temperatures for rack-mounted IT assets in these settings.
Commercial
EdgeCool works in your commercial enterprise to save energy and space in server rooms, telecom closets, and data centers.
Industrial
Count on EdgeCool to keep your equipment working its best for manufacturing and industrial operations.
Edge Computing
As its name indicates, EdgeCool fits the growing demand for peripheral computing systems that are secure, efficient, and portable.
Oil, Gas, Mining, Agriculture
EdgeCool is ideal for high-volume data processing in harsh and remote environments, where it installs neatly into a sealed rack and gets right to work.
Specialty IT
EdgeCool meets the challenge of sensitive environments, such as those that rely on solutions for sound-dampening or seismic resistance.
About EdgeCool
EdgeCool is the revolutionary cooling system that transforms a rack into a self-contained, portable server room. A product of DENSO, a world-leading innovator in cooling solutions for industry